We Enter To Learn, Leave To Achieves School Regulations
Speaking in English is Compulsory in the school premises.
Every student should carry his/her almanac to school every day.
Class Teacher's Period is a signal for all to go to their respective classrooms. This should be done promptly and in silence. As they are in their classes, students must get ready for the assembly period.
Changing of classrooms between periods should be done in silence and in an orderly manner. Students must move in a single line and not crowd outside classrooms in between periods.
Students should be habitually clean and always neatly dressed. The school uniform should be worn on all working days and for all school functions.
Parents must ensure that girl students wear knee length skirts and the boys wear their trousers from the waist and not below it.
Non-Sikh boys should get their hair cut at regular intervals.
Students are not allowed to bring any sharp instruments to school.
No books, C. D. (other than text books or library books) magazine or paper may be brought to school without the Class teacher's permission.
Lending or borrowing of money or other articles is not permitted.
Students who come to school accompanied by domestic help should never leave school before the person arrives. In case of delay, they should report to the school office. Prior permission is needed from the school authorities, if the student has to return home unaccompanied by an adult. They should not loiter around on the way but return home promptly. Students are warned not to buy or receive anything from anyone.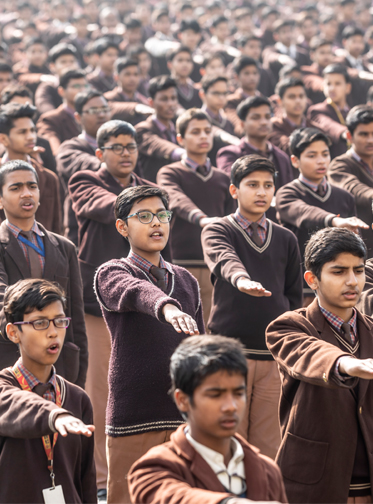 The school reserves for itself the right to issue TC to students on grounds of in disciplinary activities.
Any student repeating a particular class for 2 consecutive years will be issued TIC to as per the CBSE Rules.
Bursting crackers or splashing colors during Diwali / Holi or any other occasion in the school premises or School buses is strictly forbidden. Non- compliance of these instructions can result in expulsion from the school.
Students should attend all festivals and functions that are celebrated in the school. Verbal requests through servants to allow students to go home before the school gets over will not be complied with.
Buying of sweets, ice cream etc. from hawkers on the streets outside the school premises is strictly forbidden.
Library is our treasure; student should not spoil or misuse the items there.
Absence
A student who has been absent on the previous day will not be allowed to sit in the class without the permission of the class teacher.
No leave is granted except on prior application from parents/guardians for cogent reasons only. The parents/guardians are requested to fill in the column Under ABSENCE NOTE.
Repeated absence without leave or unexplained absence for more than ten consecutive days renders the student liable to have his/her name struck off the school rolls; readmission may be granted only on availability of seats and also on payment of fresh admission fee.
All children are expected to attend the school on the opening day after the summer vacation, Diwali break and winter holidays. One who absents because of sickness must submit a medical certificate before being admitted to the class.
A child returning to school after suffering from an infectious disease should produce doctor's certificate permitting him/her to do so.
Student suffering from the following diseases must observe the prescribed period of quarantine before returning to the class:

Chicken pox: Till complete falling of the scabies.
Cholera: Till the child is completely recovered
Measles: Two weeks after the rash disappears
Mumps: Until the swelling disappears about one month
Whooping cough: Six weeks Withdrawals
Withdrawals
One month's notice or one month's fee in lieu thereof is necessary in case a parent wants to withdraw the child from the school.
The following categories of pupils may be requested to be withdrawn from the school (not necessarily notifying cause to the parents):

Those who fail to show satisfactory progress and are unwilling or unable to profit from the educational programmed of the school.
Those whose fees remain in arrears.
Those whose behavior in the opinion of the Principal is harmful to the interests of the school.
Annual fees must be paid before applying for transfer certificate for the session.